Happy Friday everyone, and here is a Hype or Like Friday book review and the review for The Cruel Price by Holly Black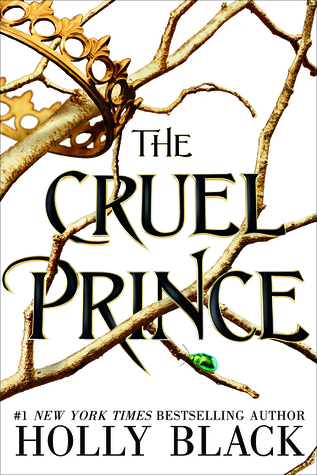 Hype or Like Friday is a meme created by Jillian, Larkin, and Britt to discuss about hyped books and see if they're hyped up or not. There would be book of the month that you can read, and the post your review for it on the end of the month, then rate it whether it's a hype it or like it.
Summary:
Of course I want to be like them. They're beautiful as blades forged in some divine fire. They will live forever.
And Cardan is even more beautiful than the rest. I hate him more than all the others. I hate him so much that sometimes when I look at him, I can hardly breathe.
Jude was seven years old when her parents were murdered and she and her two sisters were stolen away to live in the treacherous High Court of Faerie. Ten years later, Jude wants nothing more than to belong there, despite her mortality. But many of the fey despise humans. Especially Prince Cardan, the youngest and wickedest son of the High King.
To win a place at the Court, she must defy him–and face the consequences.
In doing so, she becomes embroiled in palace intrigues and deceptions, discovering her own capacity for bloodshed. But as civil war threatens to drown the Courts of Faerie in violence, Jude will need to risk her life in a dangerous alliance to save her sisters, and Faerie itself.
The Review:
I was very excited that this book was chosen for Hype or Like Friday, so it gave me  great excuse to read this book. I haven't done a Hype or Like review in a while so I am glad that it is this book. Also I was able to meet the author when she came to Boston last week.
The book is a semi modern fantasy, which includes the moral world, which a the modern world and also the world of the Fae. I like the inclusion of the mortal world mainly because I usually don't see the modern world within the world of the Fae, unless its Lost Girl.
Jude and her twin sister Taryn, were brought into the Fae world after their parents were murdered and was taken in by their parents murderer, Madoc. Years later after spending some time in faerie, she of course wants to be seen as more than just a human, because in faerie humans are always looked down upon, even amongst her classmates.
Jude, is a great character. I like that while she doesn't delve into an anti-hero, she does isn't afraid to get her hands dirty when the time comes. Even though she is a human in faerie she refuses to put up with anything that the fae throw at her. She also tries to have a good relationship with her sisters; Taryn and Vivi and also Oak, who is sort of her step brother.
Throughout the book, Jude is wants to become a knight, but being a human is the only thing that is stopping her. She becomes a spy for Prince Dain, one of the princes up for the crown, and she begins to learn a lot more about the kingdom. She learns about what the other princes; Baelkin and Cardan are planning.
I also through the world building was really great. It showed a lot about the faerie, and how the everything is run, with High Courts, along with Kings and Queens. I also like how it including the politics that is within the faerie world which made it seem as if it was a political thriller with a lot of great twists and turns that practically kept me guessing until the final page.
A lot of the characters aren't exactly black and white, which is a huge positive. Morally grey characters makes those characters a lot more interesting, mainly with the villain, Madoc, who raised Jude and her sisters. While he is of course the villain in the story, you kinda see where he is coming from and it makes him compelling. Most of the members of the High Court, all have their own schemes, and it reminded me a lot of Game of Thrones  in which there are so many sides.
In the end, The Cruel Prince was an excellent first book to a series. It had great world building and also character development. The use of morally grey characters makes the book a lot more interesting, after the cliffhanger this book had I am excited to see where this book goes.
Grade: 4.7/5