Happy Wednesday everyone, I haven't done this in a while but here is another Top 5 Wednesday.
March 14: Children's Books to Read as an Adult
–This one was suggested by another group member! What children's books do you think deserve revisiting as we get older?
Top 5 Wednesday is a group in Goodreads and was formerly created by Lainey at gingerreadslainey and is now done by Sam from Thoughts on Tomes. It is open to everyone.
Bridge to Terabithia by Katherine Paterson
I read this book back in the 6th grade and loved it. I also really loved the movie as well. I think it is good to revisit this book as an adult because it deals with loss in such a great way.
Animorphs by K.A. Applegate
This was one of the first sort of  "big kid" books I read. It sort of started my love for Sci Fi. I also remember the show on Nickelodeon that didn't last, but I wish more people would talk about this series.
The books of Roald Dahl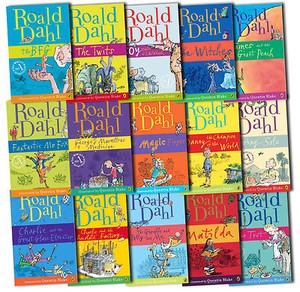 These books were some of the first chapter books I read. My favorite is Matilda, and I would always like to revisit those books.
The books of Dr. Seuss
I know this is going into the way younger range, but this was one of the first books I ever read, so of course I am including this.
The Giving Tree by Shel Silverstein
Another one of my favorite books growing up. I like that it deals a lot with growing up and those you leave behind. Great to revisit as an adult.
Those are the children's books to revisit as adults. What are your favorite childrens books? Let me know in the comments below.