Hype or Like Friday is a meme created by Jillian, Larkin, and Britt to discuss about hyped books and see if they're hyped up or not. There would be book of the month that you can read, and the post your review for it on the end of the month, then rate it whether it's a hype it or like it.
This week it is Best or Worst Lines of Dialogue From a Hyped-Up Book. I decided to describe the est line of dialogue.
For my best line it is : "I volunteer" I gasp. "I volunteer as tribute! from The Hunger Games trilogy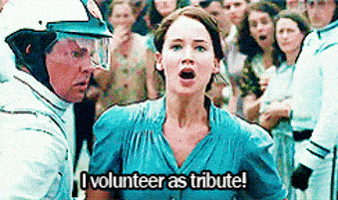 That particular line set up Katniss Everdeen as a character in the trilogy. She is someone who wants to protect her sister, even if it means sacrificing herself and volunteering in The Hunger Games; and maybe dying in the tournament. It was that moment that made her the mockingjay of the revolution.
That line also established The Hunger Games trilogy as one of my favorite book series and reneged me into reading again.